We Keep your Privacy Intact
We respect your right to privacy; our objective is to keep the conversations safe and confidential. By using end-to-end encryption, SuchApp is providing a secure messaging platform. Texts, documents, video calls, private chats, or any other file will be safely away from the hands of strangers. Every communication thread you choose keeps the data from being compromised of its security.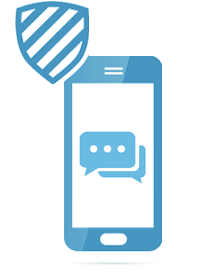 A Messaging Platform with Default Security Settings
Without end-to-end encryption, conversation in messaging apps can be easily viewed by some third person. SuchApp has stepped up the level of protection given to your private messages. A complete, end-to-end default setting that even SuchApp cannot break to peek into your conversations. Under SuhApp, in the event of communication, the recipient would possess a special key to read every locked message. With such a mechanism only the sender and respective recipient can read the messages and not any third-party. It's an automatic process that does not require you doing any sort of manual settings.
No Call Charges
Enjoy free calls and say hello to friends who matters to you the most. It can be either a domestic call or an international one; SuchApp will keep your conversation going. With end-to-end encryption, every data, text, or videos that you share will be safe from the middleman.
Save the Chat History
SuchApp does not store the messages in servers once they are delivered to the receiver. Each message in the chat gets end-to-end encrypted and is safe from third-parties. With end-to-end encryption, SuchApp is providing one of the safest messaging services.
Encrypted Chats
The presence of a lock symbol represents the privacy given to the chat room messages and calls. The conversation between the sender and receiver will be completely protected through end-to-end encryption.